It has once again been a long time since an update, but not due to lack of goings-on. The wagon has returned to daily driver status after a lot of work over the winter and spring, which I will detail below, while adding in current projects!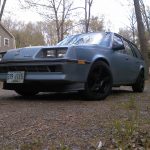 Past:
What's been done since the last update? A ton, since it's been so long.
A lot of small things such as a modified Grand National gauge pod with water temp and oil pressure gauges on the console below the radio, tachometer mounted to windshield with a GPS suction mount, some tuneup items, bumped the timing from the original 6 degrees up to 12 which made a big difference, replaced a lot of rubber vacuum and coolant lines with silicone ones, spraying antirust wax stuff everywhere I can to preserve the body, and that's about it in the minor department.
I'll put the transmission mount project here in the middle of smaller and larger projects. A cheap replacement mount had already sagged and bottomed out after 1000 miles, so I decided to pull my solid mount from the Sunbird, modify it to take some polyurethane bushings (I used old but unused GN upper control arm bushings I had laying around,) and see what happened. It certainly won't be drooping anymore, but it does also add a fair amount of vibration and some noise to the cabin, especially at lower RPM. I will keep it for now and then decide if I want to live with it or come up with something quieter. Edit: After driving it this way for a while, I think it will be fine & have gotten used to it, it's not noiseless, but not bad at all.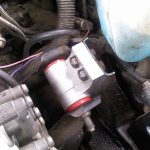 On to the bigger projects…
I installed a Viper 4115V remote starter over the winter to fire it up when it's cold, but I actually still use it even now. The car has a high idle on startup, so it's nice to give it a minute or two to settle in before taking off, so it works great for that. I soldered in all the connections and took my time with it and it works really well. The unit is tucked up by the steering column, but I need to find a way to mount it in there at some point. I have all the wiring info if it would be useful to anyone doing a first gen. J.
Next up, swapped out the small stock radiator for a second gen. larger one. Mostly just because I had it and the original was starting to leak, not because I was too concerned with cooling power, but it can only help. The plastic blockoff piece had to be removed, and 2nd gen. hoses used, but it was pretty straight forward and has been working well.
I had replaced a lot of the front suspension parts after buying the car, but not everything was new, a lot was from the old 91 Sunbird, and there are some changes between the generations that I did not know about. That being said, what I ended up with for a while was a cut spring on one side to level it off, and a "memory steer" issue that I had a hard time figuring out. To make a long story short, it ended up being bad upper strut mounts. While in there, I replaced the control arms and furnished the new ones with poly bushings (you have to buy two sets for a 2nd generation J and then use the smaller ones from each set,) and new ball joints, along with some new tie rod ends and sway bar end links. The cut spring was a temporary solution and I eventually installed some lowering springs, which make the car sit just right and look a thousand times better, especially with the larger wheels. They make a nice difference in the handling also, and with the upgrades and wider tires it hugs corners pretty well for what it is.
Once the suspension was all sorted out, I knew the exhaust was on the edge for inspection. It was getting pretty crusty in spots although the only hole I could find was in the exit pipe after the muffler. So of course, since the 2 door Sunbird had essentially become a parts car, the logical thing to do was to swap over the big fancy stainless exhaust I had built for it into the wagon. Easy! Well, there were several setbacks of course. First off, the merge of the header would not fit between the oil pan and the frame rail because the 1.8 uses a different oil pan than the 2.0. Back to the parts car, I grabbed the 2.0 oil pan and windage tray and swapped them on for clearance. This worked just fine and on a side note, using some Great Stuff gasket sealer all around the gasket has kept the oil pan from leaking all over like usual! I did end up having to clearance the rail a little bit so the header wouldn't hit when the engine moves, but with the sturdier trans mount it has now, it may no longer be necessary, I'm not sure. After that, I had to figure out how to get the pipe to exit because the back bumpers are different and the existing straight-back would have ended up in the middle of the bumper. I briefly considered just cutting a hole in the bumper, but that rarely looks good. In the end, I cut an angle in the straight and welded it back on so that it points down and comes out right below the rear bumper in the back (see picture below.) The original curved around and came out the side behind the rear wheel, but that was too complicated to bother with. It's louder, but nowhere near as loud as it was in the gutted Sunbird (earplugs.) I may see if I can quiet it a little, but it's very tolerable. The original post about the exhaust system from shortly after it was built can be found here.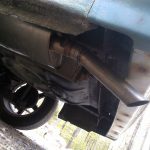 Finally, the other big project was fixing up the rocker panels which were crusty and one had a decent sized hole right ahead of the rear driver side wheel. This one I decided to send to a shop, so it happily was not another big project on my plate.
Present:
What's going on right now? Right now there is a dead mouse somewhere in my driver side B pillar that does not smell very good. Other than that, working on wiring diagrams and getting things organized to start soldering in the pigtail for the Megasquirt. I am excited to finally use it to run something and pull it out of mothballs. This will be its third application; the first two got far enough to start and idle, but never really went into duty. Also just was inspected, so good for another year.
Future:
Where's it going? I will detail this more in upcoming posts, but in short I'd like to convert it from TBI to EFI using Megasquirt, some old 2.0L parts, and a 1.8 turbo intake manifold. First will be getting Megasquirt working with the TBI, then the intake swap, retuning, then a cam swap. I'm hoping to go from 85 to around 120hp. Nothing crazy, but enough to make it a little more fun. That's oversimplifying a lot; I'm sure there will be a lot of problems to overcome in between each step, but that's part of the fun!